Explore the best business travel backpacks including anti-theft backpacks, backpacks with wheels, and custom backpacks to get organized and travel in style.
PIN ME for later
Brilliant Business Travel Backpacks For Women
*Disclaimer: Some links on OnlineTriggers.com are affiliate links. If you click through and make a purchase we may receive a small commission (at no additional cost to you). 
Looking for good quality business travel backpacks for women that are also budget-friendly? Then you're at the right place. We collected some of the most comfortable and stylish backpacks for travel that are perfect for business travelers as well.
We believe that you don't have to spend hundreds of dollars on travel backpacks and you don't have to sacrifice on quality either but you have to know where to look for the right design and what to look for when it comes to business travel backpacks.
Traveling can be stressful and difficult and with the right backpack, it can instantly become more comfortable and easier. Just like energy-boosting gadgets a good travel backpack will help you stay more clear-headed and organized while also feeling safe especially if you go with one of the best anti-theft backpacks.
RELATED: 10 Best Lightweight Laptops For Travel & Remote Work
You'll find here a comfy backpack with wheels, multipurpose travel backpacks, water-resistant backpacks,
and super stylish personalizable backpacks that could also make stunning business gifts or a thoughtful and useful gift to your travel lover friend.
No matter what your style is or what size of backpacks you're looking to buy for your next journey you'll find here your new favorite travel partner for your business journeys and beyond.
11| Bange – Flight Approved Carry-On Business Travel Backpacks for women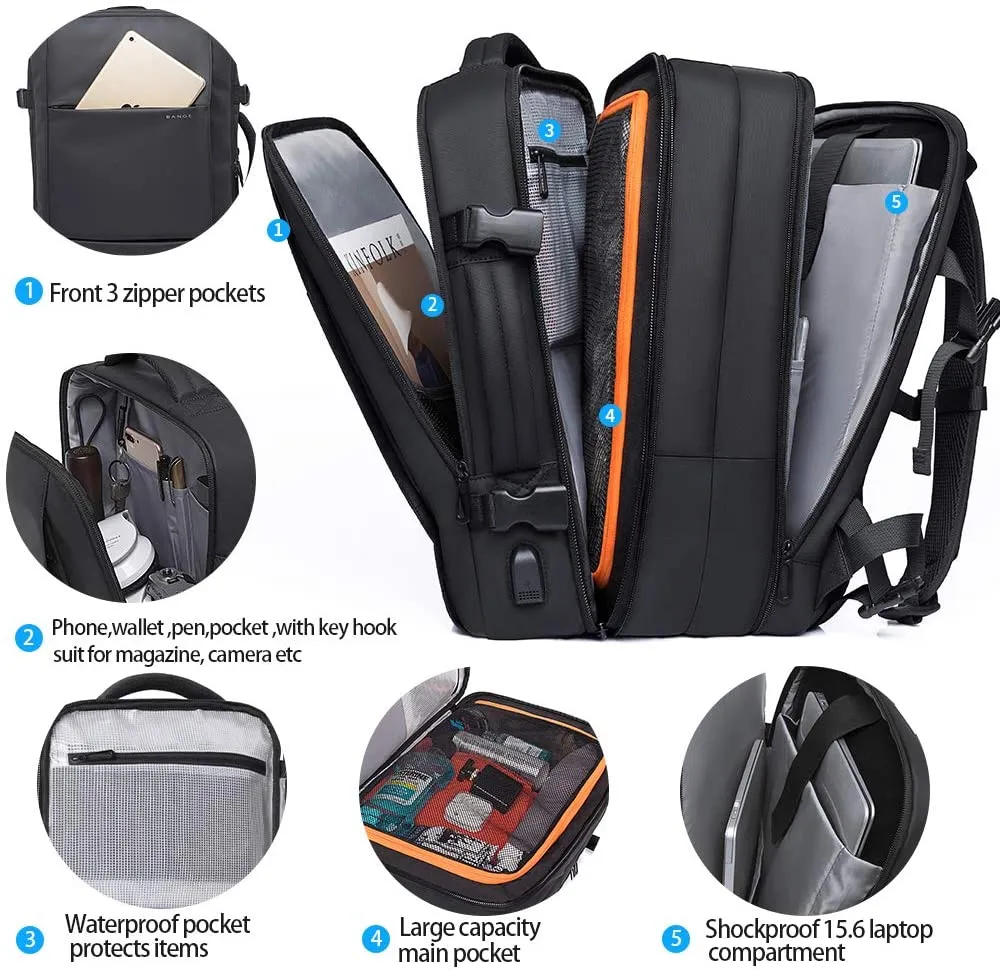 Bange offers high-quality flight-approved carry-on backpacks that are some of the most stunning business travel backpacks with minimalist style for women. Their bags are large capacity with multiple compartments for a superb and easy organization but can be compressed to look and feel smaller during everyday use.
Their business travel backpacks also come with a wet liquids pouch, laptop compartment, and are waterproof. If you're looking for business travel backpacks for women or want to give truly useful and cool business travel gifts for her then you should check out their stylish, comfortable, and modern travel backpacks for business travelers. If you're looking for cool and useful business travel gifts for her then put this stunning travel bag on your list.
---
10| LOVEVOOK – Budget Laptop Business Travel Backpack for Women With USB Port

Loveook is one of the most elegant yet casual business travel backpacks you can get on a budget. It's big enough to fit your essentials and your laptop (up to15.6 inches) yet it looks stylish and not at all bulky. Its laptop compartment is padded so you don't need an additional laptop bag either.
This beauty is also one of the cutest anti-theft backpacks and since it also got a USB charging port you can safely put your phone charging while traveling and walking around. It's also one of the best business travel backpacks for those who love to organize their bags thanks to its multi-pocket design that will help you get organized while on the road.
It's stylish, durable, and an ideal choice for business travelers who are looking for a medium-sized travel backpack wilt all the perks but on a budget.
---
9| Personalized Business Travel Backpack For Women
Looking for a personalizable canvas and faux leather backpack for travel? Then this lovely handmade and comfy bag is the right choice for you. It has a spacious laptop compartment that fits laptops up to 15". Thanks to its spacious design it's also the perfect choice if you're looking for a travel backpack for short trips (1-2 nights) and prefer to travel extra light.
It's also one of the best business travel backpacks to gift thanks to the seller's personalization that lets you add your loved one's initials to make your gift not only useful but unique.
This personalizable backpack is comfy, spacious, and is just as perfect for travel and work as it is as a thoughtful gift.
---
8| Best Business Travel Backpack with Insulated Cooler Lunch Box
Are you on a special diet or just simply prefer to make your own food even when you're traveling? Then this comfy travel back is for you thanks to its insulated cooler portion where you can safely store hot/cold food for up to 4 hours. It's easy to clean and has a large capacity as well.
The backpacks storage part is also pretty spacious and comes with a laptop compartment that fits laptops up to 15.6 inches. It's also durable and super convenient during shorter and longer trips too.
This super comfy travel backpack with an insulated lunch compartment is perfect for business travelers and for work and school.
---
7|Kaka – Large Multifunctional Business Travel Backpack For Outdoors
Are you an outdoorsy type who is looking for a large, comfy, and multifunctional travel backpack you can use as a Flight Approved carry-on as well as for your outdoor adventures? Then you should go with this comfortable and super solid backpack. Kaka
It has everything you might want in a large travel backpack. It's got an anti-theft laptop rucksack, it's durable, water-resistant, and scratch-resistant. Thanks to its professional design it's also super comfy. You'll be able to enjoy larger roomy compartments with a total of 10 pockets that are able to provide separate space for computer, iPad, A4 files, wallet, clothes, power bank, and more.
Comes in two sizes Large which is 10.5 gallons / 40L and X-LARGE which is 13.2 gallons / 50L. It's also a multifunctional travel backpack that you can use as a backpack, a duffle bag, or a shoulder bag.
This stylish multipurpose large business travel backpack is a great all-in-one choice that will allow you to pack for traveling as well as use it for your business meetings.
---
6| KROSER – Elegant Business Travel Backpack For Women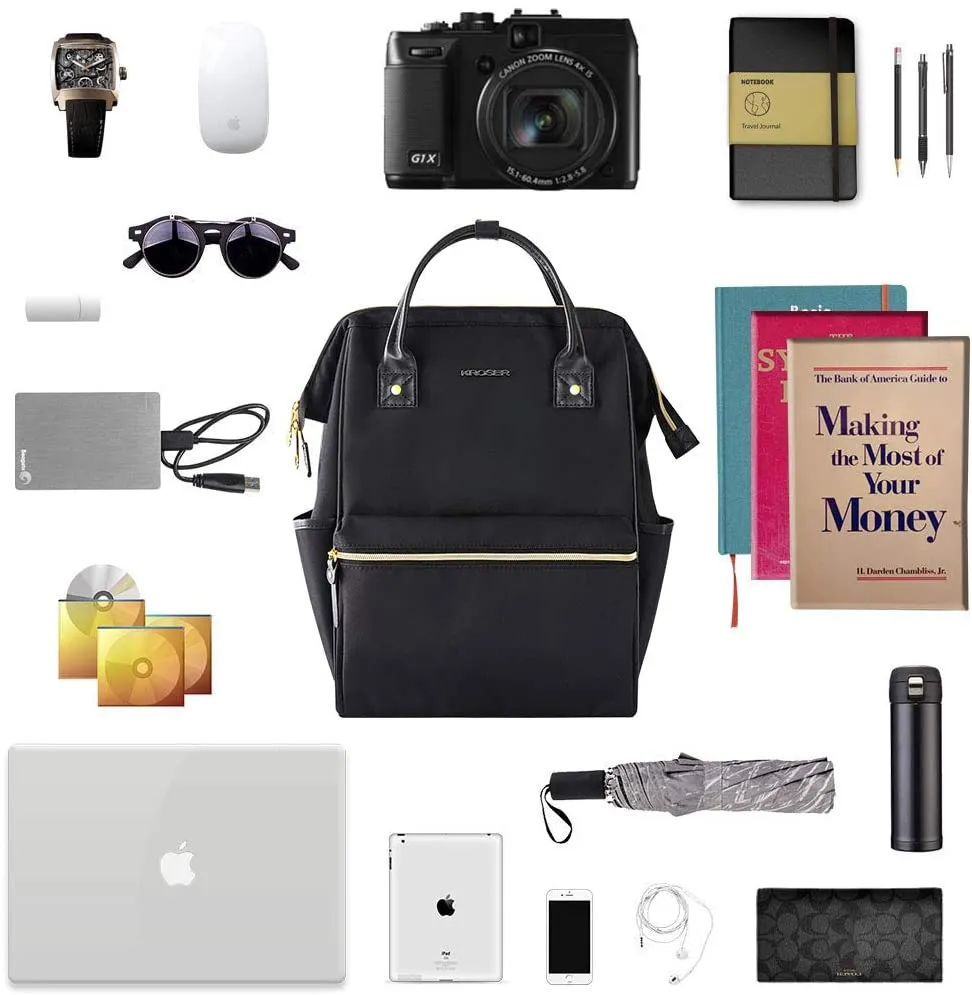 Are you into minimalist and stylish design? Then this stunning bag is probably the right choice for you. It's a medium-sized bag with a built-in USB port and multi-compartment design.
You'll get to enjoy a roomy space for your laptop, a pocket, a mesh pocket, a zippered compartment, and side pockets to store all your cards, keys, tools, and travel items.
This bag is not only spacious and has a simple and practical design but it is also lightweight which makes it easy to carry it around even on long days when you have to travel from meetings to meetings. It's also durable and comes with a well-knit luggage strap so you can fix the backpack on the trolley of your luggage to make your journey more convenient at all times.
If you're looking for a stylish and spacious business travel backpack then this backpack might be just the right choice for you.
---
5| Army Green CANVAS Business Travel Backpack For Women
This cool and comfy travel backpack will serve you right come rain or shine. This is a great medium-sized quality water-resistant canvas travel backpack that will survive it all.
It's one of the coolest-looking backpacks with plenty of exterior and interior pockets you can use every day to show off your personality. It's a great and super comfy choice for entrepreneurs and business travelers who aren't looking for a simple black, classic design but for something stylish but still minimalist.
The canvas is made by the famous Japanese company Fuji Kinume. They have been producing quality cotton canvas that is durable, long-lasting for decades now. This travel backpack is also water-resistant and can be further personalized with special text (12 letters are free) or monograms.
This waterproof canvas travel backpack for business travelers is a comfy, stylish, and budget-friendly choice.
---
4| Multipurpose Business Travel Backpack For Women
This gorgeous multipurpose business travel backpack for women is a good choice for those who are looking for a backpack that can also be used as a handbag or as a shoulderbag.

It's also made of High-quality PU vegan leather, has adjustable backpack straps, and a detachable multicolor shoulder strap. It's one of the most modern and stylish business travel backpacks for organization thanks to its rich pocket design inside and outside the bag.
if you're looking for a casual business-like backpack for travel with a cool multipurpose option then you should check out his cool vegan-friendly beauty.
---
3| Convertible Personalized Business Travel Backpack For Women
Looking for a really cool, comfy, and stylish bag to accompany you on your business journeys? This lovely convertible guitar strap backpack is the right choice for you. It has a modern, stylish and elegant vibe you can even take on business meetings. You can also use it as a backpack or as a sidebag.
It's also pretty spacious and has plenty of pockets including two zipper front pockets, a back slip pocket, and multiple inside pockets. It's also made of vegan leather and will comfortably fit larger laptops too. You can even further personalize it with beautiful Atticus-style monograms.
If you're looking for a stylish and comfortable vegan business travel backpack then this easily convertible one is a great choice.
---
2| Anti-Theft Business Travel Backpack For Women
Looking for the best business travel backpack to be organized and stylish? Then check out this beautiful and comfortable backpack for travel that's everything you need and more. It has a large storage space including a separate laptop compartment (max 15.6 Inch), a spacious front compartment, and a main compartment with many additional pockets, pen pockets to help you be more organized and to help you find everything in your bag fast and easily.
It also has a built-in USB cable that will help you charge your phone conveniently while on the road. Not only that but this backpack is also anti-theft, durable, and is made of water-resistant fabric.
If you're looking for the ultimate water-resistant backpack for travel that will easily keep you fully organized then go with this one.
---
1| Best Business Travel Backpack with Wheels
Do you prefer rolling? Then check out this classic and comfy backpack with wheels that will surely make your trips easier. This rolling travel backpack comes with double skate wheels, has 2 zippered pockets on the front of the bag with one having a built in organizer.
The main compartment opens to large storage opening, that has two more mesh side pockets. Thanks to the sturdy inline wheels you'll be able to effortlessly travel even when you're tired.
If you're looking for larger business travel backpacks with wheels, a classic and minimalist design but you're on a budget then check out this one.
PIN ME  for later
THANK YOU FOR READING!