Explore the best personalized, cool, unique, and luxury, business travel gifts for her that will make travel easier, better, and more enjoyable.
PIN ME for later
Unique & Useful Business Travel Gifts For Her
*Disclaimer: Some links on OnlineTriggers.com are affiliate links. If you click through and make a purchase we may receive a small commission (at no additional cost to you). 
Looking for the perfect business travel gift for her? Don't worry we created this post just for you. You'll find here beautiful and useful travel gifts that are also personalizable, unique, and cool so you can be sure that you give a gift that will bring joy into your loved one's life.
These are all super useful and unique gifts for travel lovers who appreciate modern design and unique products that make their travel life easier and happier.
RELATED: 11 Thoughtful & Useful Retirement Gifts For Mom
You'll find here revolutionary products that make traveling easier, better, and much healthier. Choose from brilliant products that help users take care of their mind, body, and soul and help them perform at their best at all times.
We also include budget-friendly as well as luxury travel gifts for her to make sure that no matter what your budget is you'll find here something truly spectacular.
11| Personalized Makeup Bag For Her
Looking for something sweet, simple, and useful that's budget-friendly? Then go with this beautiful vegan leather makeup bag. While this lovely makeup bag got a classic style it's also large enough to hold all necessary travel items including smaller shampoo bottles, deodorants, and other skincare or oral health products.
You can choose the monogram, the font, and the color when personalizing this charming travel gift. If you want you can even get your loved one's full name embroidered on the bag. If you're looking for a charming yet cheap personalizable travel gift for her then check out this makeup bag.
---
10| TENS EMS
Pain Relief
Haven't heard of TENS devices before? TENS are useful devices that help users switch off their muscle and even their period pain without drugs while on the road or in the comfort of their own homes.
---
9| Sensate – Calming Travel Gift Ideas For Her
Sensate relaxation device will help your loved one stay relaxed and soothe her anxiety while on the road. It's a superbly useful business travel gift that provides immediate calm and long-term stress resilience for its users.

Mindfulness and stress management get increasingly difficult while we're traveling and Sensate will give instant results that help users travel and do business calmer, more clear-headed, and easier. It's also a great device for beginners or for those who usually struggle with meditation or mindfulness thanks to their guided programs and patented technology that will help you enjoy a calmer body and mind.
---
8| A Good Business Backpack For Travel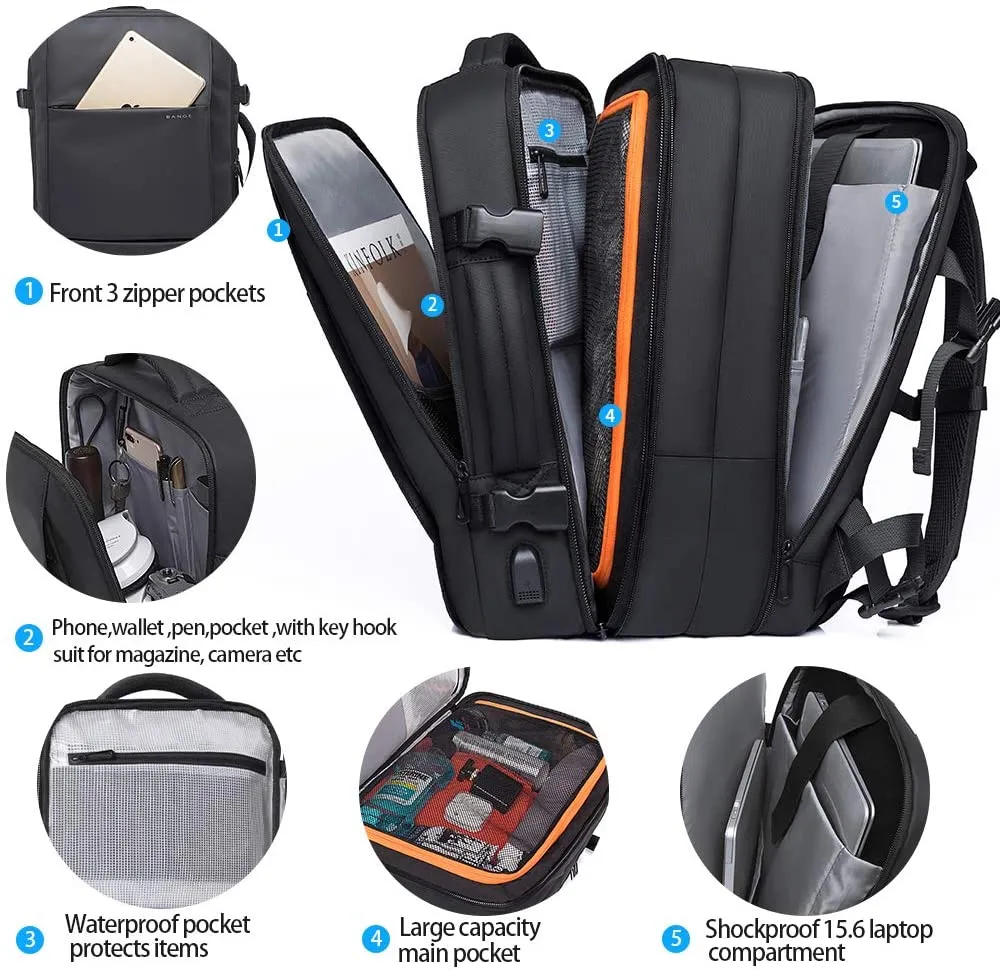 A great quality flight-approved carry-on backpack is one of the best travel gifts for her that's also useful and if you chose the right one can be a pretty cool gift too. Bange creates stunning business travel backpacks that are large capacity with multiple compartments for super organization.
Their business travel backpacks also come with a wet liquids pouch, laptop compartment that can be compressed for everyday use, and are waterproof. If you're looking for business travel backpacks for women then you should check out their stylish, comfortable, and modern travel backpacks for business travelers.

---
7| Lightweight Travel Yoga Mat
Is your loved one a fitness or yoga lover? Then get them a super portable nontoxic PVC yoga mat for travel. It's an easily foldable travel yoga mat that's only 2mm thick so it'll not take up much space in her luggage or even in her carry-on bag. This beautiful yoga mat is also a non-slip one thanks to its sticky texture that will provide extra stability.
If you're looking for lightweight yoga mats for travel or want to gift a good quality one then you should check out this beautiful travel yoga mat.
---
6| Noise-Canceling Headphone – Cool Travel Gifts For Her
Getting great quality noise-canceling headphones or earbuds is one of the coolest and most useful business travel gifts for her. Bose's  QuietComfort Noise Cancelling Earbuds look stunning and are engineered with the world's most effective noise canceling. Thanks to their multiple mode option users can decide how much of the world they want to hear.
It's the perfect gift for travelers and for those who are introverts or just generally crave more space and quiet time. Naturally, these headphones and earbuds also have high-fidelity audio that keeps the sound crisp and balanced at any level. They're also wireless and have a long battery life so perfect for longer trips too.

---
5| Portable Skin Care Tools
Building up a healthy skincare routine for travelers is just as important if not more than a skincare routine you treat yourself to at home. FOREO creates powerful and portable devices that treat the body and soul. UFO is a tiny but professional spa-level device that will make you feel like you're enjoying a real spa treatment even if you're sitting in a hotel room or at home.
Thanks to its full-spectrum LED light it'll diminish signs of aging and visibly revitalize your skin while massaging and relaxing your face and neck. This will also help you reduce muscle tension and boost skin radiance. UFO will help the nourishing mask ingredients get deep below the surface of your skin while also shrinking your pores and reducing puffiness.
You should also check out their medical-grade, anti-shock microcurrent device BEAR. With their BEAR's minute treatments, you can firm and tighten the skin on your neck and face after the first use while also boosting your collagen production.
---
4| Portable
At Home Permanent Hair Removal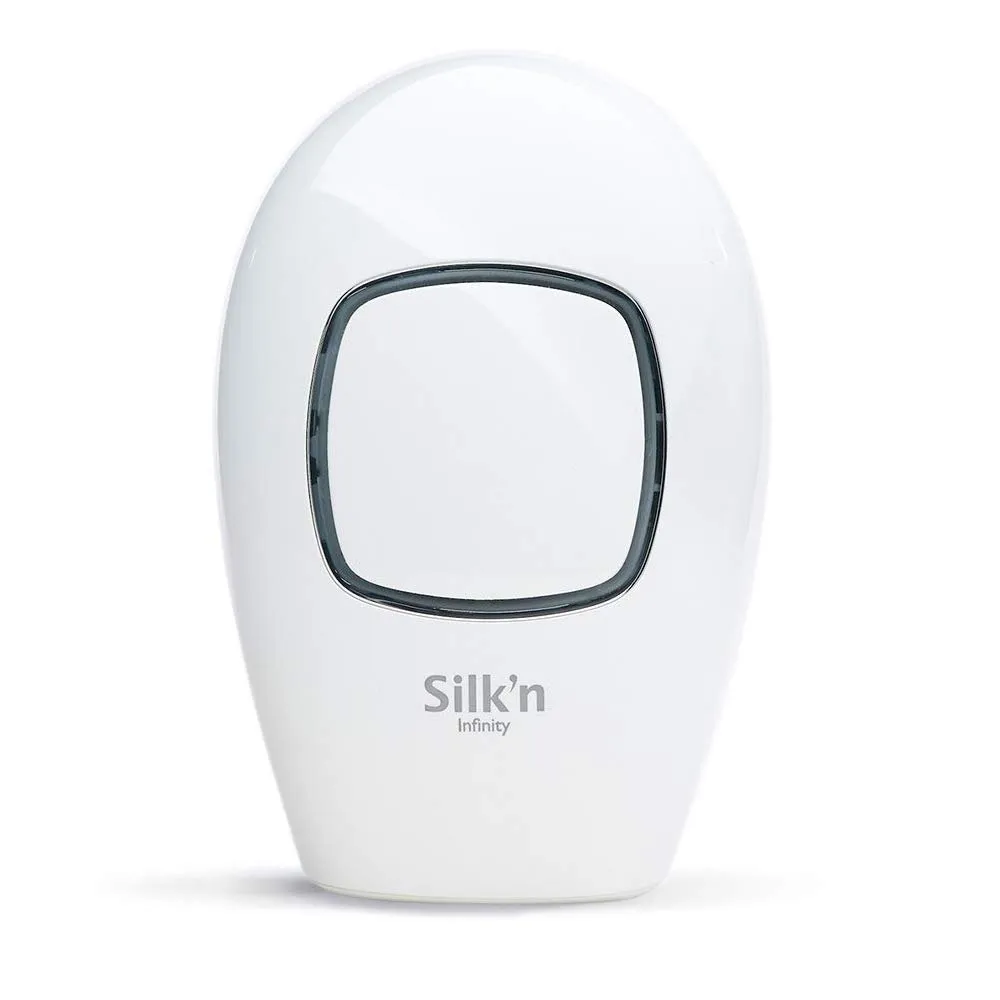 Permanent hair removal is expensive and you have to go multiple times in every few months to achieve perfect results. It's time-consuming and very difficult, especially for those who travel a lot. Silk'n Infinity is a brilliant at-home permanent hair removal device that will give you the same professional results you would get in a saloon in the comfort of your home or while you're on the road.
Thanks to its small size this IPL laser hair removal system is a perfect gift for female business travelers who want to enjoy smooth skin at all times and say goodbye to razors and waxing forever.
---
3| Lightweight Travel Laptop For Her
Looking for luxury business travel gifts for her? Then you should go with one of the most brilliant lightweight laptops for travel. Our favorites are Dell's most beloved and multi-award-winning lightweight laptop Dell XPS 13 models. It's an ultra-light but very powerful laptop that's perfect for everything from heavy editing to light gaming while on the road. It's a beautiful, quiet, and fast laptop that has a high-resolution OLED touch screen, as well as great battery life.
Dell XPS 13 Specs
Screen: 13.4 inch Touchscreen


Battery Life:

About 14 hours



Weight: 2.8 pounds (1.2kg)
Processor:

Intel Core i7-1185G7

,
Memory: 16GB

Storage:

512 GB

SSD
Graphics: I

ntel Iris Xe Graphics

Operating system: Windows 10 Pro
Price Range: $1000 – $1800 (depending on the model)
Check For Best Price & Reviews: Amazon
---
2| Filter & Purifier Water Bottle
Buy It Here
Getting a stylish and good self-cleaning water bottle will make your loved one traveling life much easier, healthier, and more environmentally friendly. LARQ bottles are actively self-cleansing and improve water quality by eliminating 99.8% of E.coli in a 20-second cycle.
---
1| Period Underwear – Unique Travel Gifts for Her
Thinx create stylish and comfortable underwears that absorb your period. Their panties are one of the most useful business travel gifts for her that she'll surely love and happily use every single month. Thinx underwear is capable of absorbing light, moderate, and heavy flow without a problem no matter if it's day or night.
Thanks to these stunning undies women don't have to worry about changing tampons, menstrual cups, or pads in bathrooms or worry about how long they last. You just grab the right Thinx pantie (light, moderate, heavy flow), and you're good to go for the day. Their period underwear is also machine washable.
Thinx period panties are made with built-in leak protection to prevent leaks and stains and to absorb your period without feeling bulky or uncomfortable while also neutralizing all unwanted smells. Thanks to its leak-resistant moisture barrier you'll feel clean and fresh and dry at all times.
You should also check out their bladder leak protection undies and their fun and comfy period underwear line for tweens and teens.
PIN ME for later
THANK YOU FOR READING!