Explore the best thoughtful & useful retirement gifts for mom. Find here unique and personalized retirement gift ideas.
PIN ME for later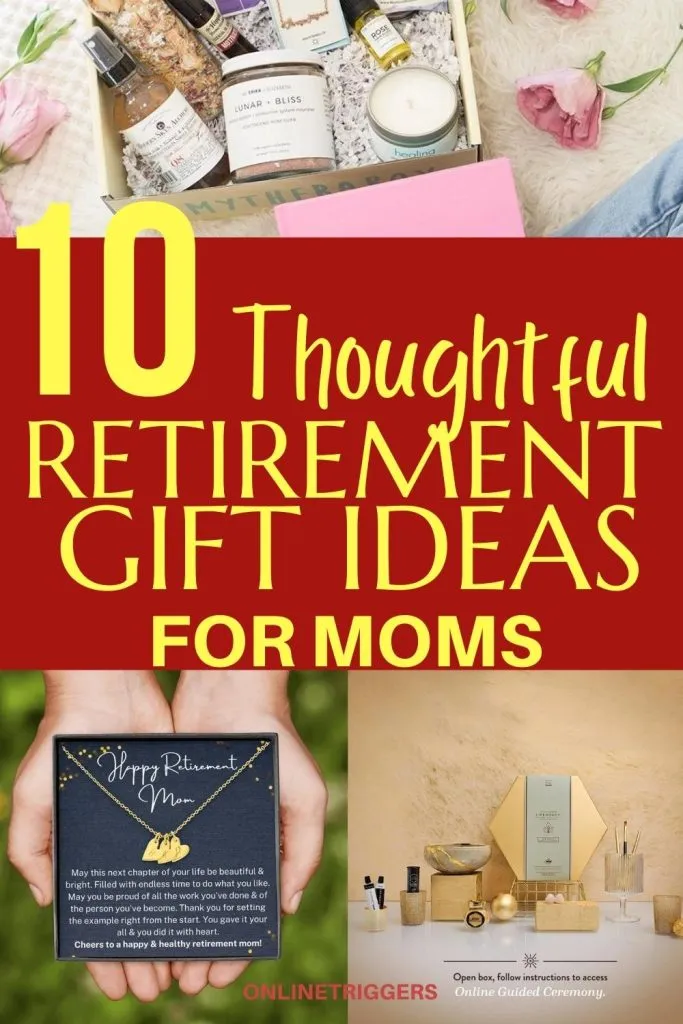 Unique Retirement Gifts For Moms
*Disclaimer: Some links on OnlineTriggers.com are affiliate links. If you click through and make a purchase we may receive a small commission (at no additional cost to you). 
Not sure what to give to your mom to celebrate her retirement? Don't worry, we got your back. We created this list to help you find the best retirement gifts for moms who are ready for the next and hopefully most exciting chapter of their lives.
If you're not sure where to start or what type of gift to get you should make a quick list and write down your budget, a few things about your mom, and about what she's planning after her retirement. Does she want to spend more time on wellness or travel? Maybe she's ready to start her own business or wants to spend more time on hobbies? Whatever it is she's planning your gift could help her achieve her goals or motivate them and feel supported.
RELATED: Thoughtful Business Gifts For Clients, Bosses & Employees
We also included some of the most unique and personalizable retirement gifts for moms so no matter what your budget is you'll surely find here a thoughtful gift for your mom. However, you'll also find here classic retirement gifts you can further customize to make sure it feels personal.
From DIY kits, and the best self-care tools to useful business classes you'll find here everything your mom might need and would surely enjoy after her retirement. You'll also find her some fun and thoughtful ideas if you're looking for business travel gifts for her.
11| DIY Kits
DIY kits are some of the best retirement gifts you can give to your mom when she's retiring. She'll have more time to enjoy her hobbies or to find new ones. A unique and fun DIY kit will help her transition, relax, and have fun from the first day of her new chapter.
You can explore all kinds of brilliant and creative DIY kits that will surely bring a smile to her face and let her create unique and fun gifts or even new furniture.
Our favorite kits:
---
10| Personalized Retirement Blanket For Mom
You can personalize this cozy retirement blanket to make it truly special. If your mom enjoys curling up and hiding under unique blankets then this soft and silky beauty will be her new favorite. It's a simple and budget-friendly retirement gift idea but it's also thoughtful and super useful.
---
9| Retirement Gifts For The Mom Who Travels
Is your mom a traveler? Then this beautiful scratch-off is a great gift idea for her retirement. You can get it in silver or gold and it comes in a beautiful teak wood frame. You can motivate and inspire their next adventures and help them keep their best travel adventure memories close even after they arrived back home.
It's also one of the best last-minute retirement gifts for moms since the processing time is only 1 day.
---
8| Foodie Retirement Mom Gifts from Daughter
Is your mom an excellent cook who likes to come up with new recipes? Or maybe she plans on learning more about cooking after her retirement? This personalized recipe journal is a fantastic retirement gift for moms who are looking for new cooking and baking challenges in their lives.
This is a lovely handmade custom cookbook that can be personalized with her name or with any custom text or special quote you like.
---
7|Classic Retirement Gift For Mom
Looking for a special and sweet necklace to give to your mom for her retirement? Then check out this beautiful and dainty necklace that's available in Sterling Silver or 18K Yellow Gold over Sterling Silver.
It's a sweet personalizable gift and you can get each heart charm to be hand stamped with a letter of your choice in a beautiful font. If you're looking for a timeless and handmade retirement gift idea you should check out this lovely necklace.
---
6|Personalized Funny Retirement Gift For Mom
In case you're looking for a simple yet fun retirement gift then check out this personalizable retirement gift mug. This double-sided mug will surely bring a smile to your mom's face whenever she's sipping on her favorite tea or coffee.
It's a great quality mug that's also dishwasher safe so you can be sure that your mom can enjoy it for many years to come. If you're looking for a budget-friendly yet thoughtful and useful retirement gift idea then go with this fun mug.
---
5| Classic Retirement Gift box
A good quality and useful gift box is always a good idea and it's no different when it comes to retirements. It's a fun gift idea that can be even personalized. This all-natural and plant-based retirement gift box is a lovely and thoughtful gift idea your mom will surely love.
So, if you're not sure what to get check out the unique and handmade gift boxes on Etsy that'll surely give you some great ideas.
---
4| Personal Development Subscription Boxes
One gift box is not enough? Then go with a brilliant and motivational subscription box that arrives at your mom's door every month. We love this personal development and self-care subscription box because it helps subscribers relax, destress, and concentrate more on the positive parts of life.
Mindfulness is positive and no matter what your mom's plans are for the next chapter of her life this subscription box will help her achieve her goals faster and more relaxed. You can order just one box or create a subscription for 1 to 12 months.
---
3| New Hobby Or  Skill
One of the best retirement gifts you can give to your mom is helping her find some new purpose and joy in her new life. Finding a new hobby or learning a new, useful, and exciting skill is invaluable that will keep her on top of her game while having fun.
If your mom loves DIY home decor or creating gifts with her own two hands you can also gift her this brilliant woodworking course with plans that will surely keep her busy for many years to come while creating useful and beautiful gifts, furniture, and any wood product you can think of.
---
2| New Business
Is your mom planning to finally start her own business? Or maybe take her hobby to the next level and start a side hustle? Then show her some support by getting her a course that'll help her achieve her goals faster and easier.
Starting a new business is challenging and expensive. You can make their next chapter easier by getting them a course that also shows that you believe in their next chapter and shows some much-needed support. This beginner-friendly Business and Affiliate course will also help them learn how to build successful email lists, marketing funnels, landing pages, and websites that convert and actually sell products let it be their own products or affiliate products.
---
RELATED: How to Make Money With Affiliate Marketing
1| Self-Care & At Home Wellness Gifts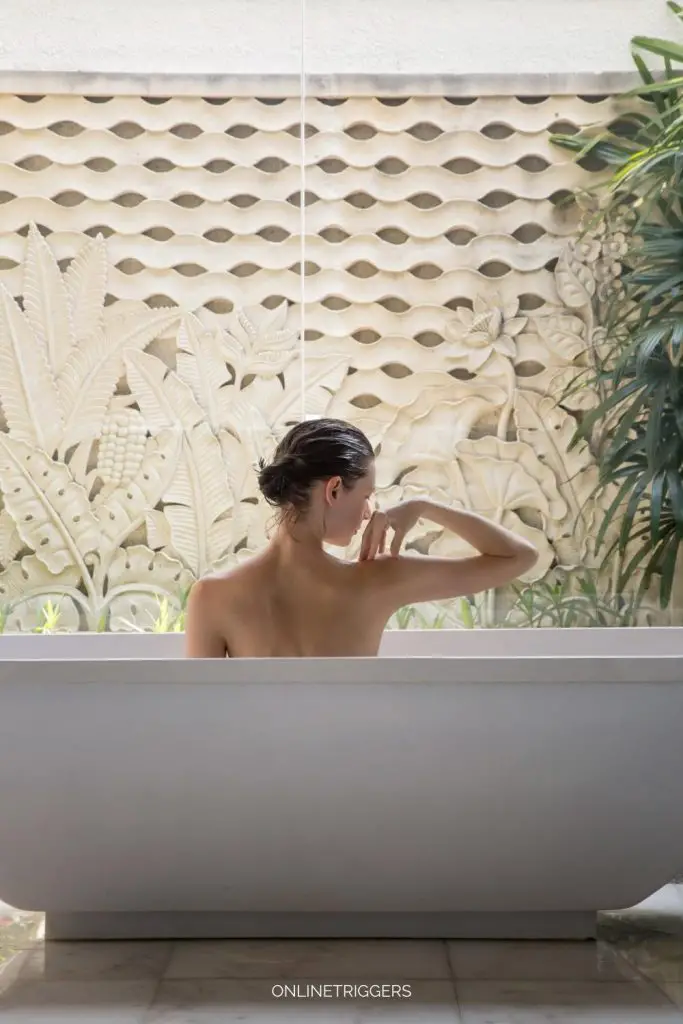 One of the best things about retirement is that we finally get to concentrate on our mental and physical well-being as much as we like. At home Self-care, beauty, and wellness have never been more comfortable and easier thanks to innovative brands like FOREO. It's also a super handy tool and one that makes any skincare routine for travelers an enjoyable and beneficial one.
You can help your mom take her at-home spa days to the next level with FOREO's beauty gift sets and tools that will help her relax while treating her skin and soul at home as if she were enjoying a professional spa.
Give the gift of an at-home spa experience
One of the best beauty tools you can get is BEAR, their stunning microcurrent device with an anti-shock system and a stunning T-Sonic massage. This powerful toning device tightens and firms the skin so your mom can enjoy a more youthful and contoured look. In just 2 minutes gives a much-needed workout to all 65+ face and neck muscles and makes them more defined and strong. Thanks to the T-sonic massager it's also a superbly relaxing treatment that will help you start or end your day mindfully.
If you're looking for something that's a treat for the skin and the soul then check out UFO a full-spectrum LED light and its nourishing masks. This extraordinary device will help you enjoy the most popular spa treatments in the comfort of your own home while also getting the same results. In a few minutes, your skin will feel and look more nourished, and it'll get a healthier glow from the very first use. Thanks to UFO's instant warming the active mask ingredients will get deep below the surface of your skin while its quick cool system will shrink your pores and reduce puffiness. UFO also has a T-Sonic massager that will relax your face and neck muscles to further boost your skin's radiance and your mood.
If you want to give your mom super useful retirement gifts that will nourish her soul and body while diminishing signs of aging and revitalize her skin then you should check out UFO; the world's first professional hand-held spa.
PIN ME for later
THANK YOU FOR READING!