Explore the top luxury hotels in central London UK that will take your breath away. Indulge your senses in the finest 5-star luxury hotels in London with spas, balconies, Michelin star restaurants, and pools.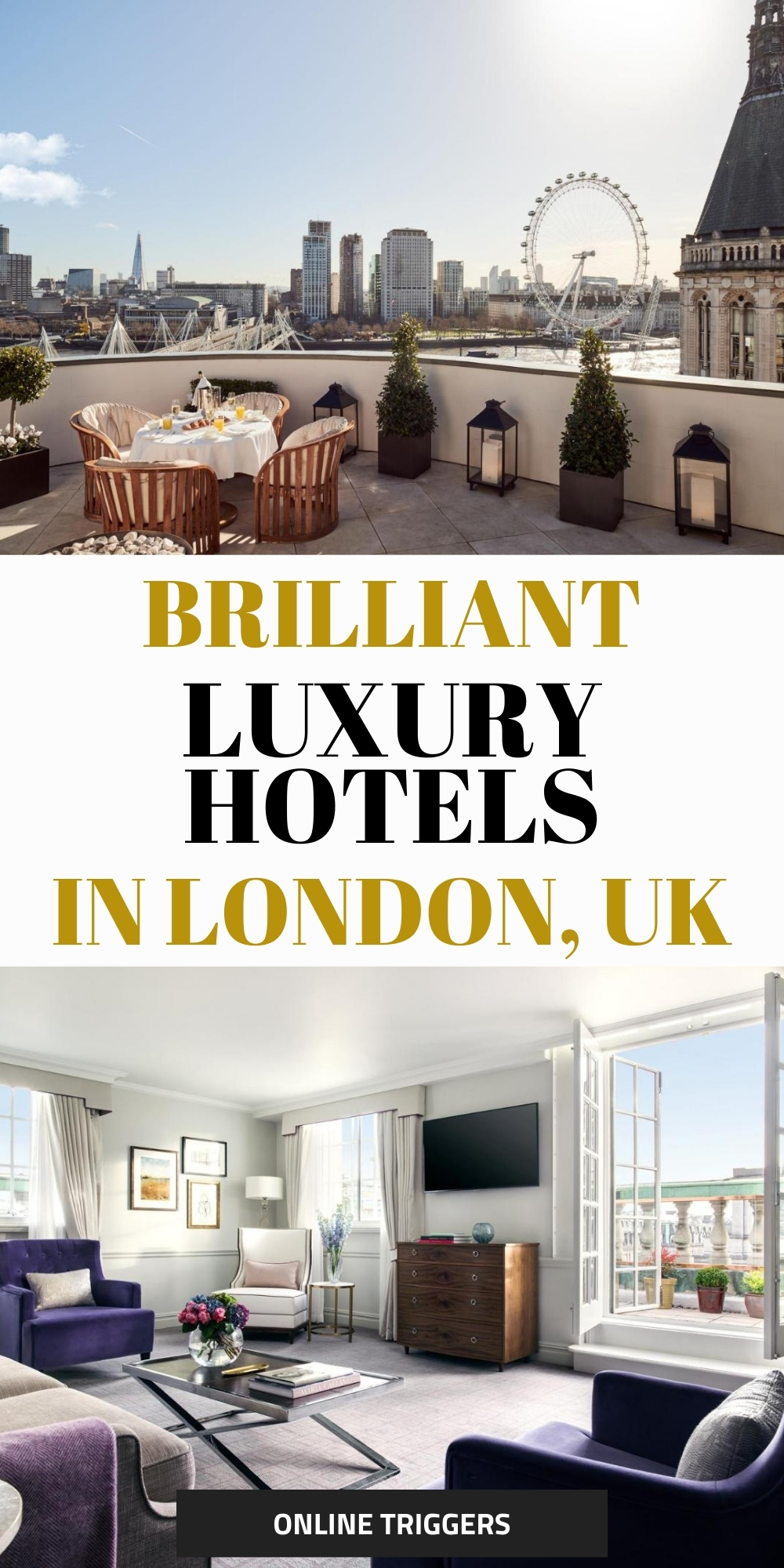 Stunning 5-star luxury hotels in London, UK
*Disclaimer: Some links on OnlineTriggers.com are affiliate links. If you click through and make a purchase we may receive a small commission (at no additional cost to you). 
UK's capital is famous for its exceptional selection of luxury hotels. But where to stay and how to choose the right one? You can find dozens of luxury hotels in central London alone. Our list aims to show you the unique qualities, characteristics, and locations of the best 5-star luxury hotels in London where you can enjoy indoor pools, award-winning bars, soothing walks in private gardens, and relaxing treatments in spas.
RELATED: Best Wellness Retreats In The UK
You'll find here traditional luxury hotels as well as modern 5-star luxury hotels where you can enjoy exceptional wellness experiences, stunning views, and one-of-a-kind experiences without even leaving the hotel grounds. No matter if you want to stay near Knightsbridge, Picadilly, or Buckingham Palace you'll find here an outstanding hotel that will make your visit much more memorable.
Before you make your booking you should consider a few extra things other than the location of a hotel. Are you looking for the best hotels with a view? Do you want a big indoor pool where you can comfortably swim a few laps? Are you looking for modern design or do you prefer history and classic luxury? You don't even necessarily have to write down things just make a mental note of the most important things you want your hotel to excel at.
13| One Aldwych – 5-star Luxury hotel near Covent Garden central London
One Aldwych is among the most impressive independent luxury hotels in central London. The whole hotel and its suites and rooms have an elegant, clean design, modern, yet elegant style. Guests can also enjoy their health club where they'll find a big indoor pool, a spa, and a gym. One Aldwych is also proud to be a cultured and sustainable hotel and share secret tips and guides to Covent Garden.
So, if you're especially curious about learning more about the fascinating history of London's theatre and art life, it's the place for you. One Aldwych also offers two elegant yet informal dining options and a bar.
One Aldwych is also one of the best dog friendly luxury hotels in London where your furry loved one will be provided with a bed, bowl, towels, and treats.
12| Bulgari Hotel, London – 5-star Luxury hotel in Knightsbridge, central London
Bulgari hotel is one of the coolest modern luxury hotels in central London. Guests can enjoy spacious and contemporary design, a large indoor pool, as well as a fine bar and restaurant. Like most luxury hotels, Bulgari also has a well-equipped fitness and spa center where guests can recharge and relax.
It's also a comfortable and elegant business hotel with one-of-a-kind private dining options. If you're a movie buff you'll probably want to visit their private cinema where guests can enjoy a curated list of modern and classic films.
Bulgari is also a pet-friendly modern luxury hotel in central London so you'll have no issues if you prefer to travel with your furry best friend.
11| Mandarin Oriental Hyde Park, London – 5-star Luxury hotel near Hyde Park, central London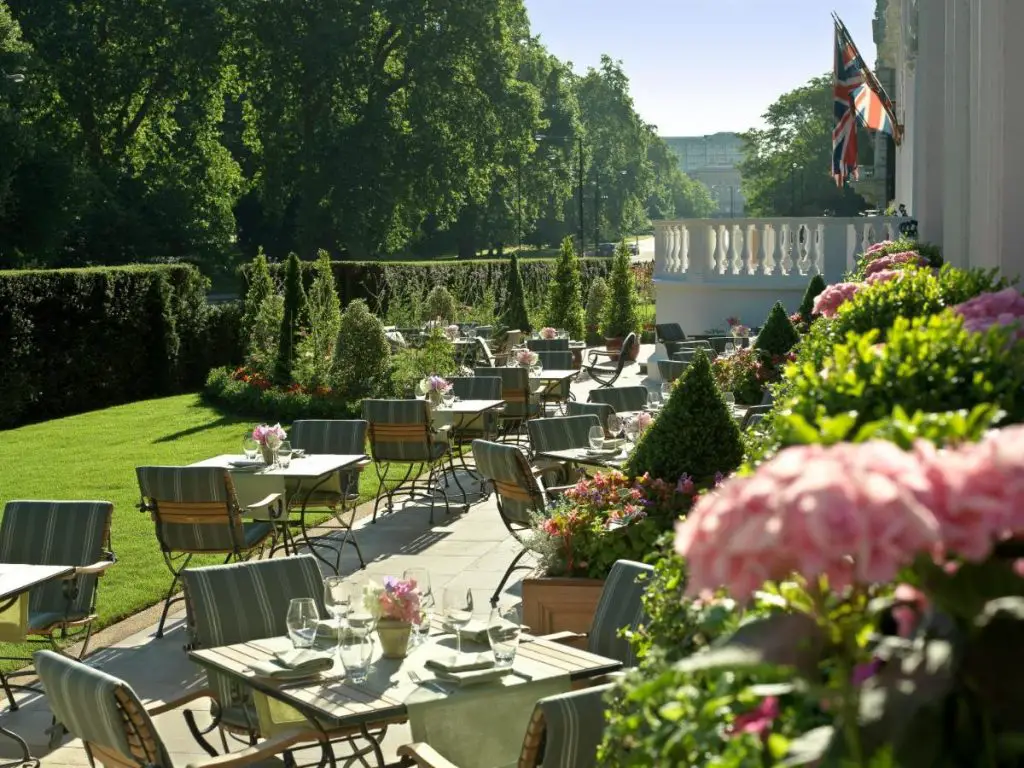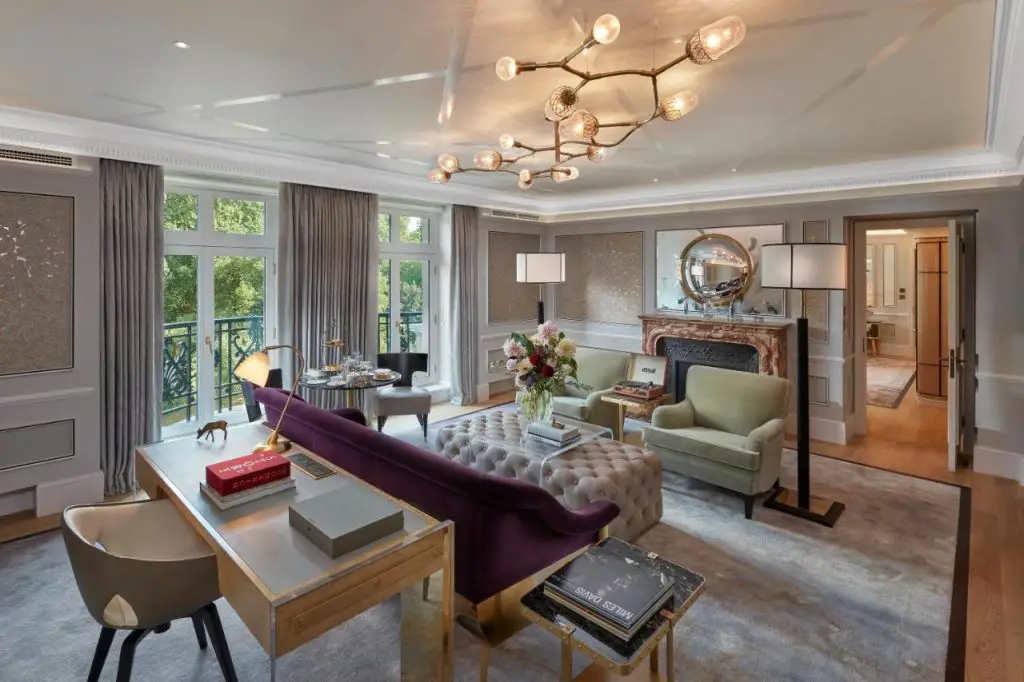 Mandarin Oriental Hyde Park is one of the most sumptuous MO hotels in Europe. It's very well located which makes it one of the best luxury hotels for families. It has beautiful big gardens, safe and comfortable balconies with magnificent views. Guests can enjoy modern yet classic elegancy as well as a huge pool, and a lavish spa & wellness center. Mandarin Oriental is also one of London's most famous culinary destinations where visitors can enjoy two Michelin star restaurants and a bar.
If you have allergies or just simply prefer hotels without pets this is the right choice for you since dogs are not allowed at Mandarin Oriental Hyde Park.
10| Milestone Hotel Kensington – 5-star luxury hotel in Kensington, central London
Milestone Hotel is excellently located and looks over the Kensington Palace and Gardens. It's not only a luxury hotel but also a landmark Victorian building with lavish suites, a restaurant, and three bars including the famous Stables bar. The Stables bar offers theatrical drinks, unique experiences and has immersive 17th-century architecture.
Milestone hotel also offers wellness, fitness, and a spa. If you want a decadent and very British experience, go with Milestone Hotel.
In case you're looking for a hotel where you could also have a stand-out wedding you should check out The Oratory. Since Milestone Hotel is also one of the best luxury hotels for weddings in London. The Oratory is perfect for private dining experiences, smaller events, and weddings as well since it still has the original chapel of the building.
The Milestone Hotel is not only family but also one of the best pet-friendly luxury hotels in Kensington, central London, UK.
9| Haymarket Hotel, Firmdale Hotels – 5-star Luxury hotel near Buckingham Palace, central London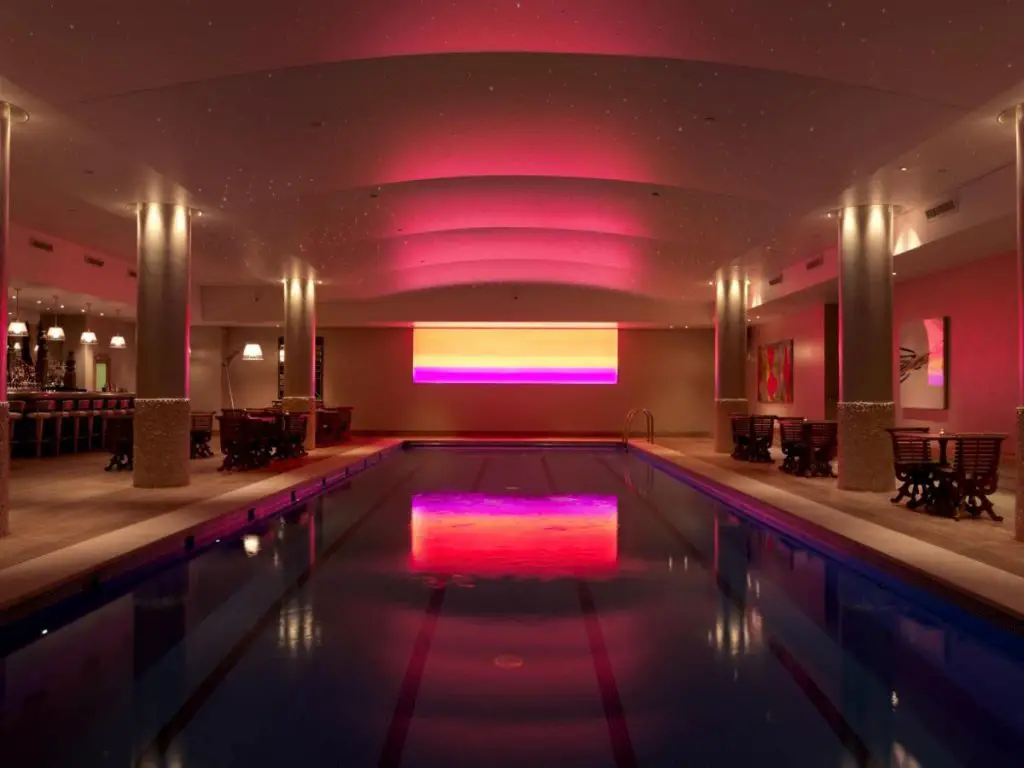 All Firmdale hotels have a very characteristic charming country luxury to them and the Haymarket Hotel is no exception. Haymarket Hotel has a modern and up-beat, even quirky vibe to it with all the luxurious perks you'd expect from a 5-star London hotel. They have a stunning pool with a bar, a gym and offer various beauty treatments.
Guests can also enjoy a bright and lively restaurant and bar. Thanks to its lovely design and family-friendly facilities, Haymarket hotel is easily one of the best luxury hotels for families in London.
Dogs are not allowed in Haymarket hotel. So it's a perfect choice if you or your kids have allergies or just prefer to stay at hotels where pets are not allowed.
8| The Savoy – 5-star Luxury hotel near Covent Garden, central London
If you're looking for a luxury hotel with rich history then you should stay at The Savoy. It's been open for over 130 years and it is the first purpose-built deluxe hotel in London. The Savoy is probably most famous for its famed guests. Over a century The Savoy London took care of some of the most recognizable names from all over the world including Cathrine Hepburn, Frank Sinatra, Bob Dylan, Marilyn Monroe, The Beatles, and many many more.
Other than stunning suites guests can enjoy a brilliant pool and spa. The dining options are also impressive; guests shouldn't miss The Savoy's world-famous and traditional afternoon tea at the Thames Foyer or the Beaufort Bar that has a truly beguiling and chic jet-black and gold decor. But guests can also enjoy their fine restaurant the Solas among various other dining options.
The Savoy also has deluxe beauty treatments and a fitness center. It's also one of the most family-friendly luxury hotels in central London, The Savoy offers guides and recommendations to London's best museums, playgrounds, and attractions for families.
The Savoy is one of the best traditional pet-friendly hotels in London so the whole family can travel and stay together without a problem.
7| Corinthia London near Trafalgar Square, central London
Corinthia is one of the best located modern luxury hotels in London with stunning views of the River Thames. Probably what best describes this hotel is a casual luxury where guests can lay back and feel relaxed at all times and still enjoy all the best things a 5-star London hotel can offer.
One of its most famous dining options at Corinthia is The Garden with lush plants and a relaxing vibe. However, Corinthia also has various other dining and drinking options such as a British-style bar and grill a fine restaurant, The Crystal Moon Lounge, and The Northhall Bar. They also offer private dining where guests can also hold intimate weddings.
Their spa and elixir clinic are also well-known where guests can enjoy and get rejuvenated thanks to the treatments of  Dr. Barbara Sturm, a world-recognized aesthetics doctor.
Pets are not allowed in Corinthia London.
6| The Langham London – 5-star Luxury hotel near Oxford Circus, central London
The Langham London offers elegant and spacious rooms and suites, some with balconies. Guests can also enjoy elegant dining experiences since 1865. Langham London is proud to be the birthplace of traditional afternoon high tea. However, guests can indulge themselves in other award-winning restaurants and bars including The Wigmore, the Artesian, Palm Court, Roux & The Landau as well as explore private dining by Roux.
One of their most unique concepts is the Langham Club where guests can enjoy ultimate exclusivity and modern conveniences for an exclusive home away from home experience. Many delights are included in the service including culinary specialties of Michelin-starred chef Michel Roux Jr. Private check-in/check-out, board room access, butler service.
Guests can also enjoy Langham's fine selection of wellness treatments to pamper their bodies and souls. Or get a nice exercise in its 16-meter indoor swimming pool or in the fitness center.
The Langham London is also pet friendly so you can stay here with pets of any size.
5| Hotel Cafe Royal – 5-star Luxury hotel near Buckingham Palace, central London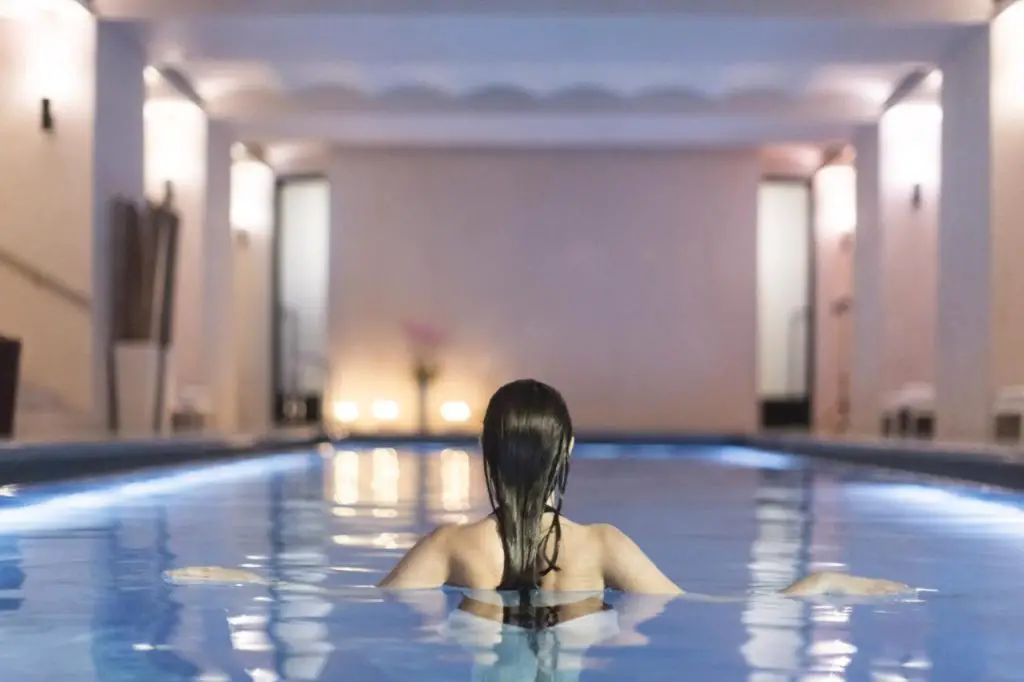 Hotel Cafe Royal is London's modern grand hotel and is a stunning place where history, business, and culture lovers can all enjoy their favorite things pretty much in the same place. This stunning luxury hotel has been open for over 150 years and its guest list is truly impressive. From Oscar Wilde, Muhammad Ali, Winston Churchill, David Bowie, and David Chipperfield to Albert Adrià have visited this excellent establishment.
Hotel Cafe Royal is also famous for being a hub for good wine, food, and of course conversation. Probably that's one of the reasons why the world's most talented artists and successful politicians frequented its bars and world-famous terraces Cakes & Bubbles and Green Bar.
Hotel Cafe Royal is also a family-friendly hotel and goes above and beyond to help its guests have an extraordinary experience in London. Their Urban Resort Programme is packed with an exciting selection of unique experiences, programs, and activities including a selection of masterclasses that range from wreath making to champagne and mocktail making, and a cinema lounge.
Guests can also indulge in their holistic spa, Akasha where visitors can relax and rejuvenate thanks to holistic treatments or get some exercise in their pool and fitness center.
Hotel Cafe Royal is a pet-friendly luxury hotel.
4| Four Seasons Hotel London at Ten Trinity Square, 5-star hotel in central London near Tower Bridge
Four Seasons Hotel London at Ten Trinity Square is overlooking Tower Bridge and the Tower of London and guests can enjoy this magnificent view from various balconies and stunning terraces.
This luxury hotel has some excellent options for those who love to explore culinary experiences in elegant and historic settings. The Rotunda Bar offers eclectic cocktails while their guest favorite Lounge wows with its elegant style and its breathtaking beautiful domed ceiling. Their Crown Jewels Afternoon Tea is one of the best experiences one can have in London and it was inspired by Britain's most known artifacts at the Tower of London. However, their restaurant Mei Ume offers more international delights showcasing Chinese and Japanese dishes with a modern approach.
Four Seasons at Ten Trinity Square also has its own Ten Trinity Square Private Club that most guests don't even know about. This Private Club came to life thanks to a unique partnership between Reignwood Group, Four Seasons Hotels and Resorts, and Château Latour. It's the place to converse, relax, for those who have a future-facing philosophy and are looking for an escape from the demands of city life.
They also offer splendid spa and Wellness services and guests can also enjoy their stunning pool and one of the finest Hammams in London.
Guests can also book extraordinary experiences like their 'Have the Tower of London to yourself'. During this experience, visitors can go on a private evening viewing of the Crown Jewels collection, then enjoy aperitifs and canapes on Tower Green.
Pets are allowed since Four seasons considers pets part of the family and is famously a dog/pet-friendly luxury hotel.
3| 45 Park Lane – Dorchester Collection – 5-star luxury hotel near Hyde Park Corner, central London
45 Park Lane Hotel has a truly fascinating and exciting past. This landmark Art Deco hotel started out as the Mayfair club and was one of the most fashionable hangout places in the 1960s for the rich and famous. Most notably it was the home to The Playboy Club.
While 45 Park Lane went under various changes in the past decades, customer service is still number one on their list. Guests can also enjoy a stunning view of Hyde Park from every room. On the higher floor suites, guests can enjoy panoramic views across London in complete privacy. A personal host is also assigned for every room who serves as a butler, concierge, and personalized bank of useful knowledge about anything and everything guests might need during their stay.
45 Park Lane guests can also enjoy their modern American steak restaurant, CUT at 45 Park Lane, mirroring the award-winning original CUT by Wolfgang Puck in Beverly Hills. As well as enjoy some fresh air and relax in their outdoor Negroni bar. For cocktail lovers, there is Bar 45, and for those looking for private dining options or want to hold meetings or presentations, there is the Media Room.
There is also an exquisite Spa at 45 Park Lane where guests can enjoy a modern luxury wellness space, a spa, a long swimming pool, and a personal training room.
45 Park Lane hotel does not accept pets at the hotel, with the exception of service dogs.
2| The Lanesborough, Oetker Collection, 5-star luxury hotel near Hyde Park Corner, central London
Lanesborough hotel offers luxurious suites and bedrooms in a grand luxury mansion and was renovated by the famed interior designer Alberto Pinto. While The Mansion and luxurious and classic design would make your visit special on their own, there is much more that guests can enjoy and explore. Lanesborough Hotel is a family hotel and has plenty of programs and activities for guests of all ages.
Guests can also indulge in fine dining at their Michelin-starred restaurant, Céleste. The Library Bar is frequented by Knightsbridge and Belgravia's affluent locals as well as hotel guests and is known to be one of London's most esteemed cocktail destinations. The Garden Room is a hidden outdoor covered terrace where guests can be surrounded by lush greenery.
Guests can recharge and rejuvenate at The Lanesborough Club & Spa Restaurant. Lanesborough hotel is home to London's Finest Luxury Health Club where hotel guests and club members have access to internationally recognized experts in the fields of mindfulness, fitness, beauty, and wellness.
The Lanesborough hotel is not only a family hotel but a perfect place to celebrate weddings or host any celebration amidst classic period elegance and enjoy the utterly English style of a vibrant and elegant Regency home.
The Lanesborough hotel welcomes most small to medium-sized dogs who'll be able to stay with their owners.
1| The Connaught – 5-star luxury hotel in Mayfair, central London
The Connaught hotel is in the heart of Mayfair and is known for its winning combination of elegance and world-famous service. Guests can enjoy a wide variety of the finest experiences of London without even leaving the hotel grounds.
Guests can explore two restaurants, two bars, a Patisserie, and various one-of-a-kind culinary experiences at The Connaught. Including Jean-Georges at The Connaught where guests can indulge in British and Connaught classics as well as Southeast Asian flavors in a relaxed yet elegant environment.
Hélène Darroze at The Connaught is a three Michelin-star restaurant, where each dish is grounded in seasonal produce sourced from the farmers, makers, and growers carefully chosen by Hélène.
However, guests can also book 'The Chef's Table' and 'The Sommelier's Table' bespoke dining experiences.
For fine cocktails and inspired conversations, guests can drop by the Connaught Bar or the Coburg Bar.
For those with a taste for delightful sweets, there is The Connaught Patisserie designed by Ab Rogers Design. The patisserie serves and sells delicious handmade delicacies crafted by Executive Pastry Chef Nicolas Rouzaud and his team of patissiers.
Their tranquil Aman Spa is the very first Aman Spa to be built outside the world-renowned Aman resorts. Where guests can embark on the path to wellness with the support and guidance of Aman Spa experts. Their brilliant black granite swimming pool and secluded fitness center let members and hotel guests work out in a relaxing environment.
The Connaught Hotel is a pet-friendly luxury hotel. However, guests are only permitted to have one pet in any room or suite at any given time.
THANK YOU FOR READING!