A quick guide to the best luxury skincare products for travelers to help you DIY your luxury skincare routine while on the road or at home and make you feel like you're at the spa.
PIN ME for later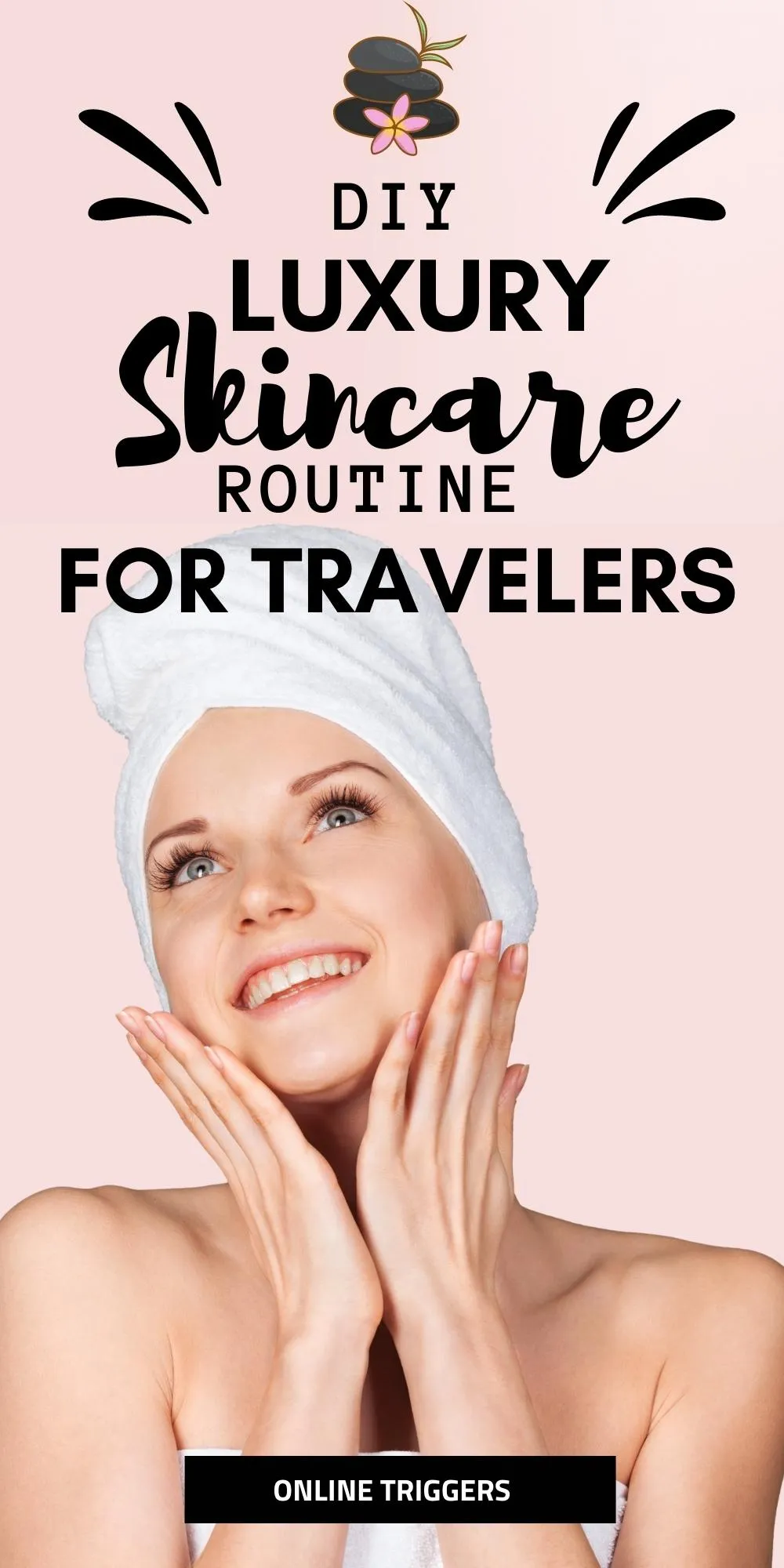 Travel-Friendly Luxury Skincare routine for beginners
*Disclaimer: Some links on OnlineTriggers.com are affiliate links. If you click through and make a purchase we may receive a small commission (at no additional cost to you). 
Thanks to the advancement of beauty technology and the internet we can create our very own luxury skincare routine no matter if we're at home or on the road. Building a healthy and balanced skincare routine for travelers is especially important since our skin is constantly damaged by various environmental factors than most people's.
There have been some great improvements over the past few years and now we can get incredible skincare products and tools we can use at home or while traveling thanks to their portable and lightweight designs. Most of these products don't take up much space in your bag (not even in a carry-on) while giving you spa-quality treatments in under an hour.
RELATED: Top Energy Boosting Gadgets That Improve Productivity & Mood
We included some of the most amazing products and tools that will help you build and maintain a luxurious skincare routine that will replenish your skin and your soul. Taking of your skin is taking care of yourself a good skincare routine should be also considered something that's part of your self-care routine and these products will help you indulge in both.
You'll find here the most amazing supplements, serums, creams, boosters, and devices that are sustainable and will make you feel and look your best even when traveling. The right skincare routine for travelers should have all these and more depending on your specific needs. You'll also find here products for all skin types from sensitive to oily skin to make sure you build a skincare routine that'll make you feel and look amazing.
Skincare starts with your diet
If your diet is not right you won't feel right and your skin won't feel right either. Athletic Greens Ultimate Daily is a whole food sourced, all-in-one greens supplement powder. It's easy to take with you anywhere and you just need a bit of water to get all the nutrients your body needs on a daily basis and especially before and after long journeys.

Athletic Greens contains 75 vitamins, minerals, and whole food-sourced ingredients that will boost your energy, immune system, recovery, gut health, digestion, hormonal and neural support, and even healthy aging. This drink will not break your feasting either and is gluten-free, dairy-free, vegan-friendly, and only contains <1g of sugar per serving.
Other than getting your daily nutrients you'll have to drink plenty of water. Mayoclinic.org advises drinking at least About 15.5 cups (3.7 liters) of fluids a day for men. About 11.5 cups (2.7 liters) of fluids a day for women.
You should also consider going choosing a sustainable reusable bottle that's good for the environment and makes your life easier too. LARQ has excellent quality and stylish self-cleaning and light water bottles that are perfect for travelers. LARQ bottles neutralize up to 99%* of bacteria such as E.coli using PureVis technology. It also intelligently activates every 2 hours to keep your water and bottle stink-free. You can buy your LARQ bottle and check for further reviews on Amazon.
Luxury Skin Care Tools & Gadgets For Travelers
When it comes to luxury skin-care tools for travelers there is a lot to consider. It doesn't only have excellent quality but has to be light and easily portable. One of the things every business traveler should have in their bags is a massage roller. It will help you fight those stubborn under-eye bags and puffiness and improve your skin's texture. It also feels relaxing while you're doing it so it can be a part of your self-care routine too while you're on the road.
RéVive, RéVolve Contouring Massage Roller
RéVolve's contouring massage roller is an innovative tool that helps improve the look of skin for less visible puffiness. Thanks to the small roller you can easily target the delicate eye area as well as the whole face. It's made of Zamac, an alloy material containing zinc, magnesium, and other beneficial elements and you only have to use it​ for about 5-10 minutes daily to see the positive results.
A few other skincare essentials for travel:
The Conservatory – Costa Brazil Creme Para O Corpo Body Cream for dry skin on hands & body – Amazon
RéVive, Masque de Radiance Brightening Moisture Mask – Amazon

Clé de Peau Beauté, Lip Serum –

Amazon
1| Cleanse – Clé de Peau Beauté Clarifying Cleansing Foam, 4.6oz
This antioxidant-rich foaming face wash is gentle and removes impurities and oil from your skin and is ideal for normal to oily skin types. This creamy face wash not only cleanses your skin but moisturizes it and promotes your skin's resilience and resistance against environmental damages while nourishing skin with antioxidant properties.
Proper and nourishing cleansing should be a part of every skincare routine for travelers.
Cleansing is the most important step is a CAN'T-MISS and it should always be the first step of your travel skincare routine no matter how tired you are.
---
2| Exfoliate – Clé de Peau Beauté Skin-Refining Clay Scrub, 3.6oz
For exfoliation, you should choose a gentle mineral-rich cleansing scrub like this lovely Clé de Peau Beauté Skin-Refining Clay Scrub.  Exfoliation removes impurities and dead skin cells to make your skin feel and look fresh and plump. This gentle cleanser is a perfect choice for all skin types, including those who have sensitive skin.

It's a skin-refining clay scrub that leverages skin intelligence to support your skin's maximum ability to restore and protect itself. It'll help your skin respond to the good (nutrients, sleep, moisture) and bad (pollution, stress, dryness) for your best skin. Not skipping this step is especially important after you spent hours traveling and your skin had to endure a lot of toxicity and damage.

Exfoliating will help your skin get rid of everything it doesn't need anymore and soak in everything that's good.
---
RELATED: 11 Best Business Travel Gifts For Her – Unique & Useful
3| Tone – RéVive, Balancing Toner Soothing Skin Refresher,
180 ml / 6 fl oz
Toning will make your skin feel refreshed, plump, and will help other skincare products absorb better. ReVive's toner will remove any residual makeup and impurities that might be still on your skin after cleanings. It also soothes, rehydrates and refreshes skin, and thanks to its chamomile flower extract it's a great choice for those too who have super sensitive skin.

Toner removes any last traces of dirt from your pores and restores your skin's pH level to improve skin tone and health.
---
4| Essence – Clé de Peau Beauté, Essential Refining Essence, 5,7 Oz, 170ml

This stunning essence will mattify, smooth your skin with a water-like texture that diminishes visible pores and absorbs excess oil. It's ideal for normal to oily skin types but people with sensitive skin can also find it useful since it hydrates skin for 24 hours without stickiness.

Clé de Peau Beauté's essence is especially useful if you're going to have a long day ahead of you since it improves the application and wear of your makeup and it will keep your skin feeling fresh throughout the day.
You shouldn't skip essence if you're going to have a long day or when you want to treat and re-hydrate your skin after a long one.

---
5| Ampoule Or Serum – The Conservatory Heraux Molecular Anti- Inflammaging Serum, 1.7 Oz, 50ml
Ampoules and serums further nurture and hydrate your skin to help fight aging and the negative environmental impacts. This brilliant serum by The Conservatory Heraux Molecular will help you reduce the appearance of fine lines and wrinkles while increasing the smoothness of your skin and reducing hyperpigmentation.
It'll improve uneven tone, increase skin firmness and moisture retention. If you're looking for a vegan, cruelty-free luxury product that'll help your skin heal and re-hydrate after long trips then you should go with this one.
Serums will help your skin re-hydrate and heal faster after long trips so you shouldn't skip this skincare routine step while you're on the road.

---
6| Microcurrent – FOREO BEAR, Smart Microcurrent Facial Toning Device For Travelers

Foreo's BEAR is a stunning portable microcurrent device that will give your face an energizing facial workout while you relax and watch your favorite show. BEAR will visibly firm your skin and give a good workout to your facial muscles to fight the signs of aging. This stunning portable microcurrent device will also improve your face's blood flow. It'll also reduce its puffiness and help with the dark circles under your eyes while enhancing product absorption.

It's an anti-shock at-home facial toning device that's super light and portable so you'll have no problem taking it with yourself on the road. BEAR's two microcurrent spheres channel energy directly into the skin to erase the signs of aging and to produce a firm and lifted appearance.

It's also a fantastic self-care item thanks to the T-Sonic Pulsations that will help relax your facial muscles. You can choose from 5 intensities to fit your needs and mood.
This stunning anti-shock portable microcurrent device will be your new favorite luxury travel skincare routine item.
---
7| Portable LED Light Therapy Device For Face & Masks – UFO
This tiny but powerful device will make you feel like you're in a spa no matter if you're on the road or at home. UFO will leave your skin instantly nourished and give it a healthy glow from the very first use. UFO will help the nourishing mask ingredients get deep below the surface of your skin while also shrinking your pores and reducing the puffiness.
Thanks to its full-spectrum LED light it'll diminish signs of aging and visibly revitalize your skin while massaging and relaxing your face and neck. This will also help you reduce muscle tension and boost skin radiance.
You can choose FOREO MASKS and use them with your UFO but can also use them with other ones you like. They have a fine selection of quality masks and you can choose between a variety of premium super clean K-beauty formulas to help you relax and enjoy expert skincare in under 2 minutes even while traveling.
This portable face LED light therapy device is a must-have in your at-home and travel skincare routine.
---
8| Eye Cream – RéVive, Moisturizing Renewal Eye Cream Ultra Retexturizing Hydrator,
15 ml/ 0.5 oz
If you're looking for the perfect eye cream to help you reduce the appearance of fine lines and wrinkles around the eyes while also increasing skin renewal? Then go with RéVive, Moisturizing Renewal Eye Cream.
This light and creamy eye cream will deeply hydrate and brighten your skin without irritating the sensitive eye area. 
Eye creams are a must in every traveler's skincare routine who want to avoid puffy eyes and want some help to fight against aging.
---
9| Moisture Or Night cream – RéVive, Moisturizing Renewal Day Cream Broad Spectrum SPF 30 Sunscreen,
1.7 oz / 50 ml
Moisturizing will help your skin feel refreshed and healthy. A good moisturizer will hydrate and nourish your skin which is important every day but especially after long hours of flight. Revive's super light moisturizer was proven to improve fine lines, wrinkles, and skin firmness, as well as to reduce nasolabial lines and marionette lines.
Thanks to its Bio-Renewal technology it will provide extraordinary skin renewal benefits you'll feel from the first day. It's also an environmentally friendly product that has an ocean and reef-safe sunscreen system. Moisturizers should always be a part of your skincare routine but it's especially important when it comes to skincare routine for travelers.

Moisturizing should be a part of your skincare routine whether you're on the road or at home but it's especially important after long hours of flights.
RéVive, Perfectif Night Even Skin Tone Cream,
50 ml, 1.7 oz. liq. US
If you're heading to bed then you should go with this powerful perfecting night cream that'll improve the appearance of past damage and bring smooth, even-toned skin to light. This is an advanced moisturizer that will fade your dark spots, even your skin tone as well as reduce fine lines while you sleep.
Thanks to Revie's signature Bio-Renewal, Bio-Firming proteins, and advanced micro-encapsulated retinol your skin will look more youthful and moisturized by the time you wake up in the morning.
Nighttime moisturizing is just as important as the daytime one so don't skip it even if you feel tired and just want to head to bed.
---
10| Sunscreen – RéVive, Soleil Superiéur Broad Spectrum SPF 50 Sunscreen Pa ++++,
50 ml, 1.7 oz.
An extra layer of strong sunscreen will protect your skin against the harmful UVB/UVA rays that can cause sunburn, skin damage. Revive's ultra-transparent and lightweight sunscreen is luxurious with SPF 50.
Sunscreen is also the most important when it comes to prevention and the fight against aging. This product is endorsed by the Skin Cancer Foundation and is powered by an advanced UV defense system and is ideal for extended sun exposure.

A good sunscreen should be always a part of a luxury skincare routine for travelers.
You should never skip sunscreen because it helps prevent skin cancer and helps you fight the signs of aging.
PIN ME for later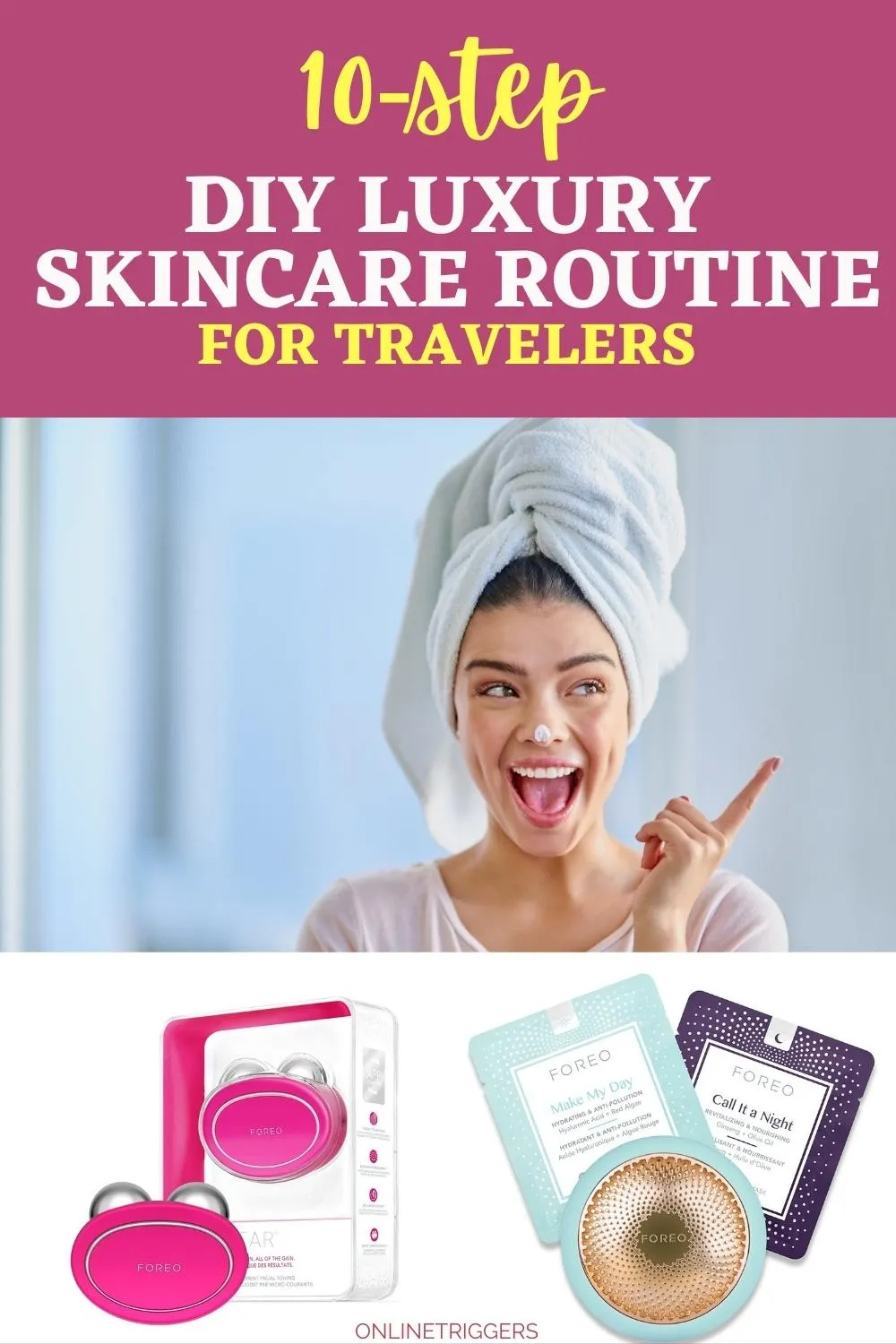 THANK YOU FOR READING!